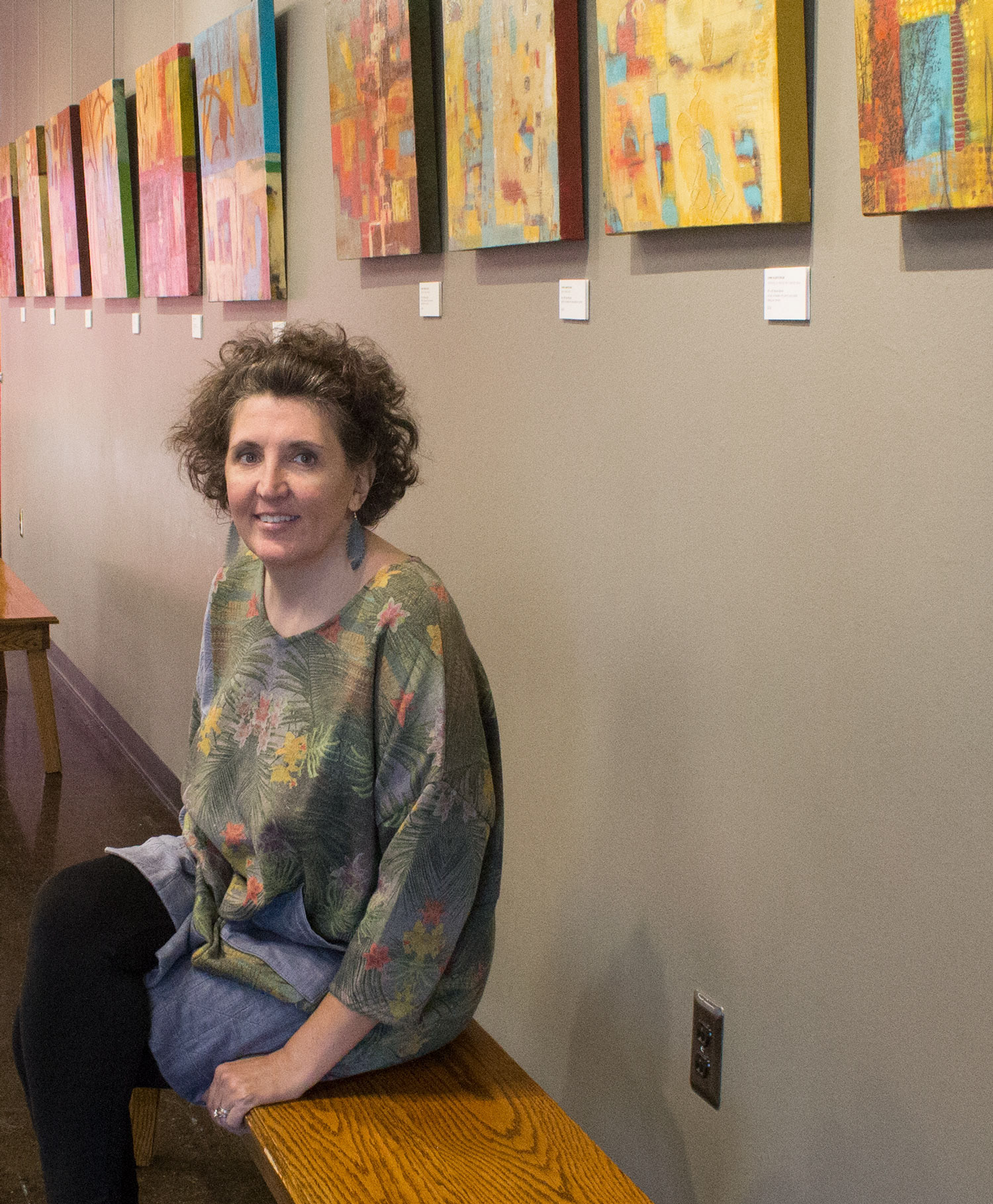 BIO
Lynne Talbot-Taylor (°1966, Methuen, Massachusetts), born and raised in New England, now living in Tennessee, is a painter, mixed media artist, graphic designer, illustrator and photographer, working creatively and professionally since graduating with a BA in the Visual Arts almost 30 years ago. 
Talbot-Taylor started as a package designer and then climbed the "corporate creative ladder" to an Art and Creative Director, working on national ad campaigns including a couple TV commercials for a large ad agency in Dallas, Texas. From there she moved to Maine, sold practically everything she owned in a vintage and antique store she bought, worked as a freelance designer and slowly started painting again.  
Talbot-Taylor's work isolate movements and objects, creating sequences that reveal an inseparable relationship between motion and space. Applying layers of mixed items and paint over and over, then scratching in textures, the artist forces her paintings into scarred reflectors, echoing a need for meaning and identity. At the same time, influences her audience by objectifying colors, words and sentiments with varied techniques and materials, producing an energetic story for the viewer's interpretation. 
Never showing the complete structure, the interpretation isn't hindered by descriptive sights or objects. By allowing the painting to dictate the movement, she creates vivid personal junctures by means of lines, grids and omissions, recognition and rejection, attracting the viewer to investigate and linger from side to side, up and down and back over again finding more to be revealed.
Many of her paintings feature collaged elements that are torn from her own drawings, screen prints, sketches and paintings over the period of three decades. When asked how she can rip up her own work, especially the ones from her college days, she responds, "What else am I going to do with them? Might as well give them a better purpose than sitting in a box." All of the works comprising "Tangled Inversus" represent the artist's conception of the continuum of the personal secrets and the public appearance, as told through her colors, shapes, strokes and x-rays woven and intertwined, mixed and embedded. 
Lynne Talbot-Taylor currently lives and works in McMinnville, Tennessee with her amusing and talented basketry craftsman husband, their two silly dogs, Chance and Jaxson plus one tiny cat named Coco Kitty.
EXHIBIT STATEMENT
I was reading an interview with an artist I admire and he stated that if you want to be an abstract artist, you have to be willing to expose everything about yourself. I wrote this line down. I explored it. Since birth, I have lived with a disease that I share with my brother. We both hid it from just about everyone. Mainly because it's so rare, we weren't diagnosed until teenagers. Also, back in the 70's, if anyone knew we were sick, we would not have done all the athletic activities we were involved in. We did everything any other kid did.
After thinking about that interview, I surmised I've been living in three compartmentalized worlds that are now colliding into a cathartic scheme: My life as a skillful graphic artist in advertising; my life on the opposite side of the creative spectrum as a painter and my life living with a disguised chronic illness. I knew it was time to figure out how to combine all three of these worlds.
Over the last couple years, I was able to slowly build up the self-confidence to put my art out there again. And with my art being so personal this time, it's even more scary. I had to dig deep and investigate the theme of private and outward identity, exposing myself that has been relatively hidden. I began this project revealing the negativity of living with a chronic illness and intended on depicting the fear I lived with as a child, like being put in an iron lung. I never forgot the photos I saw of polio patients of the 50's in the pages of library books. But after spending months looking at all my films, I saw an ethereal artistic quality. Radiologists are like photographers—capturing the mortal layers of our existence—and with me, my x-rays are used to show the progression of illness—the negative. I wanted to change it to a positive.
I named my show Tangled Inversus to represent both my abstract geometrical style paintings and the digital graphic side. In this visual composite portion of my show, I digitally deconstructed my paintings and radiographs to create a medical image as an alluring art form. I wanted to reveal the stark, cold truth of my x-rays' somber "blackness" tangled with colorful and vibrant ethereal abstract imagery—woven together as an imperfect harmony.  I think my work shows a duality, drawing inspiration from my colorful palette as well as being reminded with each breath, my private everyday struggles centered on my unique existence, since birth, living with a relatively hidden chronic syndrome for five decades. 
During the "creating", I released many of the fears I've carried since childhood. As in the "flying with butterflies" piece, how can anyone feel broken when you breath the same air as the butterflies? And I hope you see the final result as I see it: cold, clinical images as being alive with color and interaction, evolving into depictions of the inherent unstable beauty beneath, despite the physical burdens any of us walk alone with.